The Beginning
Started in a spare bedroom in San Anselmo in 1989 by the Founder, RWR Construction Inc. was formed from the very beginning to specialize in engineering construction services.
Since that humble start, RWR has completed hundreds of jobs in the Greater San Francisco Bay Area (see pin map below) and has grown into a leader in providing value-added engineering construction and drilling services.
Values and Beliefs
We believe our clients deserve:
To be treated with friendliness, fairness, honesty, courtesy and respect.
To be given thoughtful advice about how to get the most for your money.
To be kept fully informed, including scheduling and progress.
A clean job site, with full respect for your home, your family, your pets, and your neighbors.
An eco-friendly project by recycling materials and using environmentally friendly products whenever possible.
Specialties
For the last 24 years we have been specialists in tight access and track drilling, foundation repairs, fixing settling and cracking problems, helical installations, retaining walls, correcting moving hillsides, performing slide repairs and installing earth retention systems, drainage and water infiltration issues, underpinning of existing structures, shoring systems, all types of structural concrete, pier and tieback installations and emergency work.
The Team
Based in San Rafael California, RWR maintains a full complement of trucks and equipment that allows us to self-perform all of our work. Our unique combination of experienced crews and the right equipment means that when you hire us, you hire the specialized RWR team. We perform your job on time, with an impeccable safety record. We believe in giving our clients a hassle-free experience.
We constantly strive to improve our end work product through the use of the latest technology while at the same time creating an environment fostering growth and development of our people.
Our Construction Management Staff
RWR is led by the following team of dedicated professionals devoted to delivering the best possible experience to you, the client.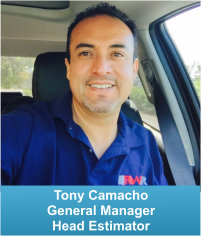 Tony Camacho – General Manager/Head Estimator Tony has over 25 years of construction experience and provides the day-to-day leadership to make sure operations run smoothly. His responsibilities include construction management and estimating, and he's been with RWR for over 12 years. Tony is committed to value engineering, to help you get the result you need as economically as possible.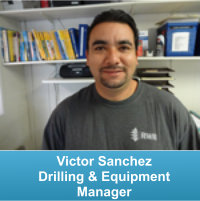 Victor Sanchez– Drilling and Equipment Manager Victor is responsible for the estimating and scheduling of all drilling and equipment rentals, as well helical anchor and minipile installations. Victor has been intimately involved with this kind of work for over 20 years, and has been with RWR for over 18 years.
Our Location
We are located just north of the Golden Gate Bridge in San Rafael, California:
200 Gary Place
San Rafael, CA 94901
(415) 457-5658
You may contact us via email at: info@RWR-inc.com